Real Life Charlie's Angels on the Case
Get clued in...what it's like to get hired as a private eye and go after the bad guys.
BY TODD VENEZIA
The scene could very well have been ripped from a Mickey Spillane novel: a high-stakes investigation; a 250-pound, no-neck bodyguard; and one wrong word that could spell the difference between success and disaster.
This wasn't fiction, though. It was real life, and the private eye wasn't a grizzled, cigar-chomping gumshoe—she was a 26-year-old woman who graduated from Harvard and studied Renaissance poetry at Oxford. "I thought about a career in academia," said Manhattan private investigator Leslie Silbert, who reads John Le Carre when she's not facing down bad guys. "But I wanted to purse my interests in the real world. I didn't want to just read spy books—I wanted to live them out."
Leslie, who said she managed to get away with the information she wanted from under the nose of the bodyguard, isn't the only young woman living out detective-novel dreams. She is part of a growing wave of women who are smashing the image of a PI as a tough-talking man with a fedora and a jaded leer.
"The best surveillance people I've ever had were females who did not have a law-enforcement background," said Richard "Bo" Dietl, head of Beau Dietl and Associates Security and Investigations in New York. "Women are hungrier, they don't complain, and they have energy left." Dietl (a former law enforcement agent whose life story was the inspiration for the 1998 film One Tough Cop starring Stephen Baldwin) said at least 40 percent of the investigators in his agency are women. "They're great on surveillance. No one suspects a woman is following them. They're also great on eavesdropping for the same reason."
In the age of computer database searches, detective work has changed. These days, detailed financial probes are more common than back-alley snooping. Spying on cheating husbands is no longer a regular part of the private eye's job.
"The new trend is toward international investigations," said Bob Viteretti, managing director of Kroll Associates' New York office. "We need people with legal expertise, computer expertise, forensic experts. They come in all genders, shapes and sizes."
"Some private detective agencies like experience," says Bo Dietl, "but I also hire people with no experience. They apprentice here and learn through people who know." Dietl says apprentices start at approximately $500 a week. The qualities he looks for in aspiring private detectives are energy, tenacity and vision—which he describes as having the ability to change your line of questioning based on the personality of the person you're interrogating. In other words, doing what it takes to get the information you need from that person.
Amy Gray is a 26-year-old Brown graduate who spends her workdays hunting down information behind multi-million-dollar business deals for BackTrack Reports in New York. "We're not jaded about this work," she said. "We're not hardboiled. And maybe that's an asset."
About a year ago, a newspaper ad prompted Amy, a former assistant editor at Doubleday, to leave her job in book publishing. The same ad lured her co-worker Amber Smith away from the art world. Neither regrets her decision, but the 28-year-old Amber admits she had some doubts about becoming a PI. "I was expecting a lot of gray-faced old men," she said of her first trip to the agency offices in downtown Manhattan. "But when I got there, I got all fired up from remembering reading old Nancy Drew books. I remembered that lost ambition."
Kim Keaton, 26, was a junior high teacher before moving to BackTrack. She loves the change. "I would classify our organization as the young, hip version of PI work," she said. "We're not that old man in the corner with a cigar."
If the cigar is a thing of the past, so too is the magnifying glass. Today's tool of choice is the computer, used to search out information in such public records as courthouse deeds, marriage licenses and old arrest reports.
With such raw material and some phone calls, the investigators say they can build a stunningly accurate portrait of a subject. They don't even have to flash a gun, which the women claim is often a misconception among friends. "They ask you if you're packing," Amy said, patting her hip. "I don't have a gun."
"We investigate companies and people and that's what we train people to do," says Tony Shortway, operations manager at BackTrack. "We look for good deductive reasoning skills. No college degree is necessary. No experience is necessary. Sometimes it works better to get people and train from the bottom up."
The women who work at BackTrack enthuse about their jobs, but when it comes to spilling the juice details of their cases, they clam up quickly, admitting only that they involve big-money deals and clients who don't want their names in the paper. "It's not a Charlie's Angels situation," Amy said. "We're not breaking up international drug rings. We're protecting people's money."
While the three rookies shrink from comparisons to the late '70s TV heroines who just made a comeback on the big screen (in the 2000 film which starred Cameron Diaz, Drew Barrymore, and Lucy Liu), some women in the profession fill the role of Charlie quite nicely—organizing and supervising groups of detectives and coordinating major investigations.
Elaine Wood, 45, a former assistant U.S. attorney, is even doing the job part-time while on maternity leave. "I can work the phone from home, and I have the support of teams of people," she said, as her newborn daughter, Georgia Grace, cried in the background. "It's hard to do a serious conference call or a confrontational interview, though, when you have these sound effects in the background. It makes people giggle."
Elaine, a 1986 Columbia Law School graduate, worked for several years at the prestigious Manhattan law firm of Cravath, Swaine and Moore, where she met her husband, also an attorney. She went from white-shoe firm to gumshoe detective by the same route men have taken for years: through the U.S. attorney's office. Her job at Kroll Associates, a firm which specializes in corporate skullduggery, entails coordinating the efforts of investigative teams similar to the staff at a prosecutor's office: street-level investigators, computer experts and forensic accountants.
"Common sense and personality are mostly what's needed to get the job done," says Elaine. You do not necessarily need a college degree to become a successful investigator," she says. "Look what Erin Brockovich accomplished," says Elaine, referring to the 2000 film starring Julia Roberts, based on the true story of a California file clerk who uncovered corruption in a public utilities company, resulting in a $333 million payout.
Elaine also plays the role of an account manager, handling clients she describes only as "Fortune 500" companies with names everyone would recognize.
One of Elaine's clients is New York's Madison Square Garden, where last year she helped bust up a major ticket-scalping ring, resulting in the firings of nine employees. Because of her maternity leave, Elaine's workload has diminished. But she credits Kroll, which has more than 1,000 employees in more than 45 offices worldwide, including Chicago, Los Angeles, Washington D.C., and Toronto, with helping her stay on the job, showing that in the modern detective agency, there's room even for motherhood.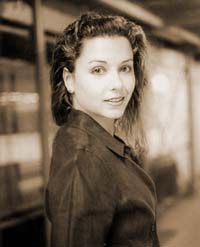 At major agencies, professionalism has played a big role in ending the dark days when women were used as bait, seducing unwitting husbands, to get evidence of adultery. Now the field is filled with women like Leslie, who has investigating in her blood: her father, a former U.S. attorney, was one of the first prosecutors to handle the Watergate probe.
The most rewarding case she has worked on was an investigation into art stolen from Holocaust survivors during World War II. The probe led to SoHo art galleries and one-time members of the Office of Strategic Services, the forerunner of the CIA.
As for her brush with the 250-pound tough, Leslie, who worked at Investigative Group International in Manhattan (but is now on leave from the industry so she can write a spy novel called The Intelligencer), said her fast talk and unassuming look—the appearance of a Prada-clad public relations agent—helped her get away. Beyond that, all she'll say is: "I was asking questions that would make people uncomfortable." Legendary private eye Mike Hammer could not have put it better.
Photo © Jerry Bauer
---
©2005 Leslie Silbert. All rights reserved.
Website design by Chris Costello.