New York Undercover
Move over, Farrah. Today's female private eyes are packing guts, glamour and Ivy League degrees.
BY ROBERT HASKELL
A little while ago, an NBA team rented out an entire floor of a major New York hotel. The scene might have looked familiar to anyone who's heard about the rituals of post-game partying: Inside the locked suites, players entertained their friends and girlfriends; champagne and beer flowed; Jacuzzis bubbled. And down in the lobby, hundreds of young women, all of them basketball groupies, hitched up their skirts, reapplied their lipstick and stood around waiting to be asked to the party. One of these young women was Virginia Valdez.
But Valdez, it turns out, had a hidden motive. She'd been hired to follow the wife of one of the players, whom he suspected of carrying on an affair amid the concealing chaos of the party circuit.
Valdez's alliterative name, along with her sideline as a personal trainer, may bring to mind the golden age of Seventies detective dramas, in which lady crime solvers from Pam Grier to Kate Jackson packed cunning instincts and hot bods to boot. But in this case, the day job is real, and so is the name. A few years ago, Valdez, who was born and raised in the Bronx and gradated from college with a degree in criminal justice, went to work as a legal assistant at the Carpenters' Union. When the union engaged the services of a private investigation firm, she got poached. "They needed women," she says.
In a profession with a vast surplus of men, lady PIs are in great demand these days. But unlike their celluloid counterparts, they're not strapping daggers to their thighs or concealing tiny silver pistols in their purses; information—not kung fu—is the preferred weapon.
Leslie Silbert shopped her services around last year after graduating from Harvard and ended up at Investigative Group International, one of the city's biggest firms. "I loved the sound of their splashy cases," she explains, citing the Marcoses' plundering of the Philippine treasury, the heist at the Isabella Stewart Gardner Museum in Boston—where looters made off with a Vermeer and the only known Rembrandt seascape—and the suspected murder of Doris Duke.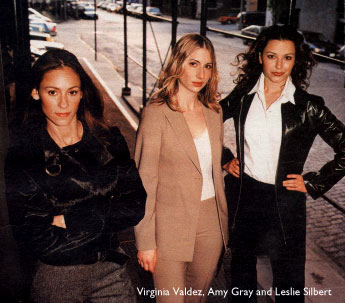 "In school," Silbert recalls, "I was obsessed with the connection between information and power throughout history, and I was especially interested in the idea of curiosity and forbidden knowledge in the Renaissance. Plus, I love espionage."
On the day we meet, she's getting ready to interview the former head of an Asian narcotics bureau to investigate rumors surrounding a prominent Chinese businessman's involvement in laundering heroin money for Burmese drug lords.
"But that's absolutely all I can say," she says. "There's a lot at stake, you know."
Discretion is, of course, the sine qua non of the trade, especially when scandal is rampant and cases often involve adultery and murder, scheming socialites, suicide and drugs. Amy Gray, a corporate investigator at BackTrack Reports in New York, has recently been pursuing a powerful hip-hop music personality to determine the nature of his relationships with well-known gangsta rappers. But beyond that, her lips are sealed.
"This is an outrageous business," says Gray, who went to Brown and decided to forgo what she calls the liberal arts/book publishing track. "But it's serious, particularly with the stock market doing as well as it is. A lot of money is changing hands, and not all of the hands are clean.
"But it's thrilling to chase people down," she adds. "The fun part is figuring out where people have lied. We're looking for inconsistencies and what people are trying to conceal behind the inconsistencies."
Sometimes, however, that's all too easy. Valdez has had her share of Park Avenue divorce cases, and recently she tailed a woman who stood to gain many millions in a settlement unless her husband had proof of her dalliances. So Valdez grabbed an evening dress ("because you never know if you'll need one"), jumped into her car and waited, video camera in hand. It didn't take more than five minutes for Valdez to film her subject as she left her house, walked up the block and greeted her lover with a lingering kiss.
As Valdez readily acknowledges, "These women have a lot to lose, and believe me, people kill for a lot less. I mean, what's she going to do, get a nine-to-five?
"For me, the danger of getting caught is the fun part," she continues, "but so is seeing how stupid people can be."
Photo © Beth Perkins
---
©2005 Leslie Silbert. All rights reserved.
Website design by Chris Costello.